By Mikal E. Belicove|For Entrepreneur.com|June 2, 2011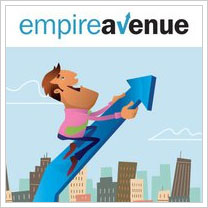 Last week, I wrote about Empire Avenue, the "social media exchange" that enables players to buy and sell virtual shares in another person or business or brand. With an expanding user base, the game helps players monitor their social influence and garner business-related connections that may lift sales and boost their bottom line.
This week I chatted with representatives from two of the largest conglomerates on the real New York Stock Exchange about their participation in Empire Avenue. That's right. Both Ford Motor Co. and AT&T established themselves on the site two months ago. While they're new to the game, check out their stats:
Ford (FORD) started trading at 25.35 eaves — Empire Avenue's fake currency — on its first day and ended the day at 45.61e. Today it trades at 102.77e.
AT&T (ATT) started at 10.00e and ended its first day of trading at 37.76e. Today, it's trading at 108.70e.
The representatives at Ford and AT&T say their companies spend less than an hour a day managing their Empire Avenue accounts. Ford's account is managed by Scott Monty, the company's global digital and multimedia communications manager. AT&T's account is managed by Christopher Baccus, the executive director of digital and social media.
Since both of these fledgling Empire Avenue companies experienced fast success on the platform, I asked them to offer some dos and don'ts for other business leaders who may be considering using Empire Avenue as well. Here are a few of their suggestions:
Continue reading 5 Dos and Don'ts for Businesses on Empire Avenue