By Mikal E. Belicove|For Entrepreneur.com|October 13, 2011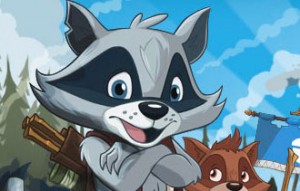 Want to be the next Zynga? If your answer is yes, you're not alone.
Just ask Philip Holt. He's the president and CEO of the Orlando, Fla.-based game development studio called Row Sham Bow, which plans to debut its first effort — Woodland Heroes – on Facebook this Tuesday.
Holt says Heroes is an action strategy game that mixes story, drama and humor, along with some "riveting gameplay." Here's what Holt learned about starting a gaming company and working with Facebook:
1. Get smart fast.
The Woodland Heroes team hit the deck running by reading articles, analyst reports, news stories, collecting daily headlines, purchasing target research, talking with a hundred industry sources. Ultimately, they focused on Facebook as their gaming platform because it has a highly engaged audience, among other benefits.
2. Create competitive advantages.
Holt says 50 percent of his job has been hiring, because a competitive edge always starts with a stellar team. He hires for intelligence, problem solving, passion, hunger, and team work over specific technology skills. The reason? Technologies change and you don't want to be swapping your team out.
Then make sure your team knows your core strengths and principles — the things that are unique to your company and aren't altered by platform limitations, market conditions or competitive influences. Stay true to those strengths and principles and make sure your product clearly represents them.
3. Find the right advisors.
This first-time entrepreneur says his mentors are venture capitalists who provide guidance on what to look for in an investor, feedback on negotiation tactics, deal terms, board recruiting and equity participation for early employees. He says you have to…
Continue reading Five Keys to Building a Successful Gaming Company