By Mikal E. Belicove|For Community Magazne|September 10, 2009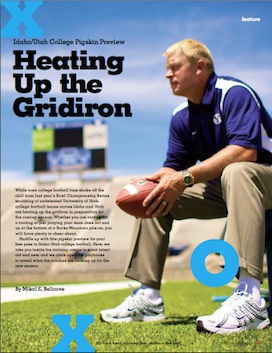 While area college football fans shake off the chill from last year's Bowl Championship Series snubbing of undefeated University of Utah, college football teams across Idaho and Utah are heating up the gridiron in preparation for the coming season. Whether you are rooting for a routing or just praying your team does not end up at the bottom of a Rocky Mountain pile-on, you will have plenty to cheer about.
Huddle up with this pigskin preview for your free pass to Idaho-Utah college football. Here, we take you inside the training camps to scout talent old and new, and we crack open the playbooks to reveal what the coaches are cooking up for the new season.
Boise State
The Boise State Broncos are coming off an almost perfect season in which they claimed their sixth Western Athletic Conference title in seven years, finished 11th in the AP poll, 13th in the USA TODAY Coaches' Top 25 poll and fell just two points short of an undefeated season in the Poinsettia Bowl. This year, the Broncos hope to gallop to even greater success behind a young, experienced quarterback, an improved running game, 14 returning starters and a host of promising new recruits.
Head coach Chris Petersen, in his fourth season as the Bronco's head coach, has earned an impressive 35-4 record — 23-1 against WAC opponents — and is looking for his third WAC championship since becoming head coach in 2006.
With a passing game that may be challenged by a lack of experienced wide receivers, Petersen is relying on quarterback standout Kellen Moore and his great depth at running back to lead the charge. He is also looking to his experienced and talented special teams for that big-play edge. In 2008, special teams returned three punts for touchdowns and led the WAC in punting with an average of 39.6 net yards — fourth best in the country.
Brigham Young University
Brigham Young University approaches the 2009 season with confidence and optimism best expressed by head coach Bronco Mendenhall: "This is a team that is very competitive and hungry. They like to play and they like to compete. We have enough talent to contend for a conference championship. I'm optimistic from what I've seen this spring."
Coming off a successful 2008 season, the Cougars have good reason for remaining optimistic. They finished the year with rankings in the national polls — 16th in the BCS standings, 21st in the USA TODAY Coaches' Top 25 poll and 25th in the AP poll. In addition, seven players earned All-America recognition, and the team was second only to Penn State in the number of student athletes earning First Team Academic All-American honors.
BYU plays a strong schedule in 2009. The Cougars face six bowl teams from last season, including four teams that finished the year in national rankings. BYU fans will enjoy a great home schedule in LaVell Edwards Stadium this year as the team hosts Florida State, Utah State, Colorado State, Air Force, Texas Christian and Utah.
BYU has the talent, senior leadership and coaching to build upon last season's successes. As Mendenhall says, "Whether that happens or not comes down to execution at those critical times. Our goal is to win the championship and we've still got a long ways to get there. We're going to keep fighting." And if last season is any indication, BYU fans are still going to have something to cheer about.
Idaho State University
The 2008 season gave Idaho State fans little to cheer about. Although ISU won its season finale, fans probably should not expect the late season victory to signal a complete turnaround for the program.
Idaho faces the toughest nonconference schedule in the Football Championship Series, playing at Arizona State and national runner-up Oklahoma, and then hosting one of the top Division II teams in the nation in Central Washington. ISU also has its always-tough Big Sky slate, but with 14 returning starters and some new blood in the coaching staff, the team should fare better than last season.
ISU will enter the season with two very seasoned quarterbacks in junior Russel Hill and senior Kyle Blum, who started the final two games, including ISU's only win in 2008 (36-33 in overtime against Sacramento State). ISU also has 40 newcomers this season, including several junior college and Division I transfers expected to play a big role, especially on defense.
University of Idaho
For the University of Idaho Vandals, who spent last season in the cellar with a 2-10 record (1-7 in conference play), a WAC ranking of 9 (out of 9) and bragging rights limited to leading the nation in punting by T.J. Conley, 2009 could be payback time.
Head coach Robb Akey returns for his third year, attempting to reap the benefits of his steadfast approach and nearly a dozen returning starters, including junior quarterback Nathan Enderle.
One of the main challenges Akey faces is plugging key gaps left open by departing players including center Adam Korby, who graduated, and two starting linebackers, Justin Allen and Jonathan Faraimo. The leading candidate to replace Korby is former guard Irvin Stevens.
Overall, Akey's outlook for 2009 is much improved due to the return of so many veterans and the influx of new talent, and he is out to earn some respect. "We won't be just a snot-nosed football team," Akey says. "This team is starting to get some personality, some spirit. We're developing a strong sense of leadership and are committed to doing what we need to do to achieve success."
This year promises to have Vandals' fans holding their heads high as a much-improved team takes the field.
University of Utah
Coming off an incredible 2008 season in which their team went undefeated and claimed the No. 2 spot in the national rankings, University of Utah fans are likely to be haunted by great expectations. This year will be one of rebuilding (or reloading) for the Utes, who have seen the departure of assistant head coach Gary Andersen along with a host of standouts on both sides of the ball, including quarterback Brian Johnson, defensive end Paul Kruger and cornerback Sean Smith.
Fans may want to lower their expectations for the 2009 season accordingly, but the Utes could still manage to surprise naysayers. Defensively, the team remains solid, which has always kept them in contention and allowed the offense to win games. Offensively, the coaching staff is making adjustments in the hopes of assembling a squad that can work together, control the ball, put points on the board and keep turnovers in check. Quarterback DeVonte Christopher has moved to wide receiver, while three players — Corbin Louks, Terrance Cain and Jordan Wynn — contend for the quarterback position, with true freshman Wynn appearing to get the nod at the No. 1 spot at the time this issue of magazine went to press.
Head coach Kyle Wittingham acknowledges the challenges ahead, yet remains optimistic and likes the way the schedule is structured for the 2009 season. "Playing all four of our nonconference games before getting into conference play is a positive. We have good players in our program and are anxious for our latest signing class to join us in the summer," he says.
Fans may expect more than that, and they might just get it.
Utah State
Coming off a 2008 season with a record of 3-9 overall and 3-5 WAC, Utah State's Aggies are hoping to learn the winning ways of their rival, the Utah Utes, via the Utes' former assistant head coach Gary Andersen. Andersen comes to Utah State after five seasons as assistant head coach, defensive coordinator and defensive line coach.
The Aggies face a tough nonconference schedule, debuting against Utah in Salt Lake City, facing Texas A&M in College Station, and then heading to BYU to take on the Cougars.
Utah State has 21 returning starters for 2009 — 10 on offense, seven on defense and four on special teams — including senior linebacker Paul Igboeli and senior offensive center Brennan McFadden, both named to the Second Team All-WAC.
With a new coach to shake things up and a challenging schedule, Utah State is eagerly anticipating its 2009 season of rebirth.
Weber State
In 2008, the Weber State Wildcats posted a 7-1 mark in Big Sky Conference play and a 10-4 record overall, tying the school record for most victories in a season. Weber State also set a Big Sky record with 12 players earning First Team All-Big Sky Conference Honors, including quarterback Cameron Higgins, a 6-foot-2-inch, 210-pound junior who was named the 2008 Big Sky Conference Offensive Player of the Year.
Offensively, Weber State promises an explosive aerial and ground attack with the return of key starters — including Higgins, senior running back Trevyn Smith and senior wide receiver Tim Toone. The only thing that could possibly slow down the Wildcats is its loss of three starters on the offensive line — two First Team All-Big Sky players and a Third Team All-American.
Safety Beau Hadley, defensive end Kevin Linehan and cornerback Josh Morris anchor the defense. All three earned First Team All-Big Sky honors in 2008.
"I am excited to see how far this team can go," head coach Ron McBride says. "We finally got the taste of a conference championship in our mouths and we now know what it takes, physically and mentally, to achieve that goal."
One thing's for certain: With all that firepower returning on offense, the Wildcats will keep fans cheering.