By Mikal E. Belicove|For Entrepreneur.com|September 1, 2010
The e-mail message was alarming and ominous: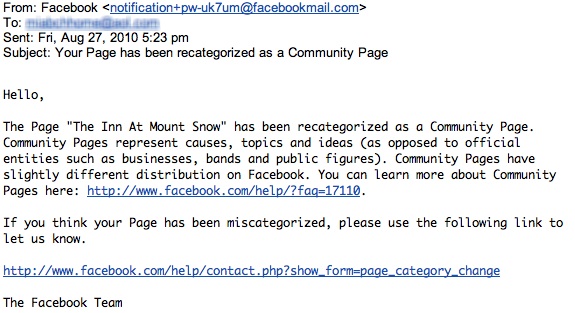 Thinking the above message must be spam, the folks at The Inn at Mount Snow in West Dover, VT, immediately logged onto their Facebook account, where they were promptly confronted by the following message at the top of their Page:

Definitely not spam, and according a statement provided by Facebook to Entrepreneur magazine, it's intentional.
"With millions of Pages on Facebook, we rely on our automated systems to help us best categorize them as Business or Community Pages," said a Facebook spokesperson. "As you can imagine, when sweeping through Pages of this volume our automated systems are not perfect, and occasionally some Business Pages are miscategorized as Community Pages." (Note: See the e-mail message above for Facebook's own definition of a Community Page.)
To correct this, Facebook has created an appeals process that helps business owners recategorize their Pages if they believe Facebook's automated system has made a mistake.
If your Facebook Business Page has been improperly recategorized as a Community Page, follow these steps to appeal the decision:
Continue reading How to Avoid Facebook Business Page Recategorization