By Mikal E. Belicove|For Entrepreneur.com|September 16, 2009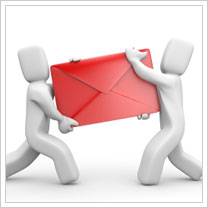 We've all received e-mail promotions with a "forward this message to a friend" call-to-action, but hardly any of us ever does. According to Richard Evans, Senior Product Marketing Manager at e-mail marketing automation firm Silverpop, "social e-mail" has the potential to be the new viral, but only if you tap into the right resources.
Richard spoke yesterday afternoon at the Lift Summit in Atlanta–a two-day conference presented by OfficeArrow and the University of Pennsylvania's Wharton Interactive Media Initiative, where real-world examples of social commerce strategies and tactics were on display–about social media integration into e-mail marketing. While Evans' message was simple–as use of social networks/media continues to gain mass adoption, integrating e-mail marketing and social media through social sharing links should be a "must include" feature in marketers' e-mail programs–it's one that's often overlooked by entrepreneurs and marketing professionals alike.
Evans and I sat down after his presentation to discuss his presentation and Silverpop's new benchmark study on social e-mail, "E-mails Gone Viral: Measuring 'Share-to-Social' Performance" in more detail. Here are three key takeaways when considering how to make your e-mail marketing campaigns shareworthy:
The marketing landscape has shifted from one of messaging to one of engagement and sharing: An exciting new age in marketing has arrived in which interacting and building relationships with customers is the key to delivering unprecedented return on investment. Consumers are more informed than ever and are increasingly taking brands into their own hands, seeking out relationships–knowledge-based, product-based and community-based–with the companies they choose to do business with. Customers now assert more…
Continue reading Is Your E-mail Marketing Shareworthy?