By Mikal E. Belicove|For Entrepreneur.com|September 8, 2011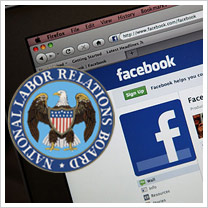 Providing guidelines on how employees should refer to work on social media sites is smart. But firing staffers for what they post about your company is a big no-no.
Employees who openly participate in a Facebook conversation about the terms and conditions of their employment — including defending their job performance — are protected under the Wagner Act (a.k.a. National Labor Relations Act).
A National Labor Relations Board (NLRB) administrative law judge ordered Hispanics United of Buffalo to reinstate five employees — with back pay — asserting the workers were unlawfully fired by the Buffalo, N.Y.-based organization. The decision is the latest in an increasing number of charges (14 recent cases) involving social media policies that have been submitted to the NLRB for resolution.
In four of the cases involving Facebook, employees were found to have engaged in protected concerted activity. In five other cases involving either Facebook or Twitter, the employees received no such protection. And in another five instances, some portions of the employers' social media policies were determined to be too broad.
In the most recent case, Hispanics United of Buffalo, a provider of social services to Latinos living in western New York, was accused of unlawfully discharging five employees who defended their job performance online while being critical of the conditions under which they worked. The turmoil began when a co-worker — an advocate for domestic violence victims — was critical of another employee, claiming she wasn't doing enough to help clients.
In response, the targeted employee asked four co-workers how they felt about the charge, and when they responded to her Facebook page posting, the employer fired those coworkers as well as the employee who sought the initial solicitation for comment. Hispanics United claimed those comments constituted harassment of the employee who first brought up the complaint about a fellow worker on her Facebook posting. That employee told the executive director that she…
Continue reading Labor Ruling Is a Reminder to Revisit Social Media Policies