By Mikal E. Belicove|For Entrepreneur.com|August 5, 2010
Back in 1974, the folks at Burger King came up with an incredibly successful television advertising campaign based on the slogan, "Have It Your Way." It was an instant success because the burger franchise meant what it said–you wanted extra lettuce on your burger? You got it. Hold the secret sauce? Just ask.
It's been three and a half decades since BK's mass customization ad campaign hit the television airwaves, and now a group of start-up customizers are taking the "design-your-own" concept to the internet with a one-day advertising blitzkrieg that runs tomorrow on Facebook.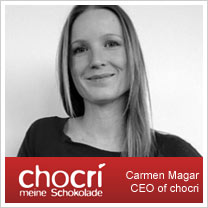 Carmen Magar, CEO of chocri–the design-your-own chocolate bar company–is the mastermind behind the coordinated ad campaign on Facebook that she says could result in 8 million impressions and help create a national awareness for design-your-own and customization products on the internet.
She says 24 startups in the industry are coordinating their efforts on Facebook tomorrow between the hours of 5:00 a.m. and midnight PST. For these online businesses, tomorrow (Friday the 6th) is more of a movement than an advertising blitzkrieg. "The goal is conversation, not conversion," says Magar. "We think that this will create some awesome buzz and awareness for design-your-own companies."
Continue reading Mass Customizers Hope for 8 Million Facebook Impressions