By Mikal E. Belicove|For Entrepreneur.com|September 8, 2010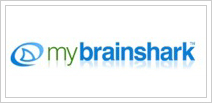 Brainshark Inc. has just opened up an ocean of access to its on-demand multimedia customers by introducing a new feature that enables businesses and entrepreneurs to share their PowerPoint presentations on YouTube–at no cost to the participating company.
Started 10 years ago, Brainshark provides a web-based Software as a Service platform that allows your business to create and share on-demand, multimedia content, and access deep metrics associated with it. The Massachusetts-based company has built a polished online platform that walks you though converting PowerPoint slides–as well as other materials such as PDF files–into powerful voice-enriched Flash presentations that are suitable for YouTube, your own website or company blog, and even e-mail marketing campaigns. A year ago this month, Brainshark launched myBrainshark–a free version of its software well-suited to entrepreneurs and small business users.
Brainshark has long lurked in the waters of multimedia communication for savvy businesses that appreciate the benefits of publishing their PowerPoint presentations on their own website or blog, accompanied by audio and voice narration, and viewed through an easy-to-use player.
But the real beauty of Brainshark and myBrainshark may just be in your ability to tap into deep reporting metrics after you distribute your content. The toothy platform lets you see who and how many people are watching your presentation, how long each viewer stays with the show, where they're watching (by country as well as by state in the U.S.) and much more. This is valuable information for your sales and marketing departments, which will get an accurate notion as to how buyers and others are receiving the content and how it is influencing buying cycles.
And now Brainshark for YouTube–introduced to the public just yesterday afternoon–is a free service for Brainshark's enterprise customers as well as those who take advantage of the myBrainshark.com site. Using only a PowerPoint deck and a phone (or a computer microphone), you can immediately create high-impact business content that's ready to post on YouTube. No muss, no fuss.
This new service makes it possible for anyone who possesses the basic skill set to create a PowerPoint presentation to successfully tap into the power of high-impact online video marketing by publishing and distributing it as a YouTube file. In short, myBrainshark makes it possible for your company to engage in a feeding frenzy of online video marketing, greatly expanding the reach of your message and how people consume it. Think of it as the democratization of multimedia presentations.
Brainshark and myBrainshark presentations can be…
Continue reading myBrainshark Makes Your PowerPoint a Big Star on YouTube