By Mikal E. Belicove|For Community Magazine|September 1, 2008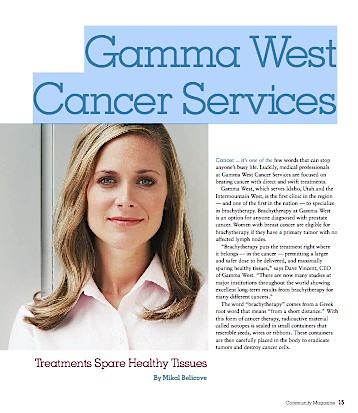 Cancer … it's one of the few words that can stop anyone's busy life. Luckily, medical professionals at Gamma West Cancer Services are focused on beating cancer with direct and swift treatments.
Gamma West, which serves Idaho, Utah and the Intermountain West, is the first clinic in the region — and one of the first in the nation — to specialize in brachytherapy. Brachytherapy at Gamma West is an option for anyone diagnosed with prostate cancer. Women with breast cancer are eligible for brachytherapy if they have a primary tumor with no affected lymph nodes.
"Brachytherapy puts the treatment right where it belongs — in the cancer — permitting a larger and safer dose to be delivered, and maximally sparing healthy tissues," says Dave Vincent, CEO of Gamma West. "There are now many studies at major institutions throughout the world showing excellent long-term results from brachytherapy for many different cancers."
The word "brachytherapy" comes from a Greek root word that means "from a short distance." With this form of cancer therapy, radioactive material called isotopes is sealed in small containers that resemble seeds, wires or ribbons. These containers are then carefully placed in the body to eradicate tumors and destroy cancer cells.
In its simplest form, brachytherapy dates back to the turn of the 20th century, just after Marie and Pierre Curie discovered radium at their Radium Institute (now the Curie Institute) in Paris. Of course, scientists have greatly improved the isotopes now in use, and they have perfected the techniques used to place those isotopes precisely at the location of the tumor.
"With our extensive brachytherapy experience, Gamma West has had remarkable success with the patients we most commonly treat," Vincent says.
Leaving a Legacy
Dr. John K. Hayes Jr. is founder, president and medical director at Gamma West. A native of Provo, Utah, he has been performing brachytherapy procedures at Gamma West since 1998. Previously, Hayes pioneered brachytherapy treatments at the University of Utah School of Medicine, where he was an associate professor of radiation oncology and was instrumental in pioneering the protocols for treatment of cancers with brachytherapy that are widely used today.
Hayes and his team have performed more than 4,000 brachytherapy procedures, with impressive results. "Among our patients with low and intermediate risk prostate cancer, approximately 95 percent have remained cancer-free," Vincent says. "The results with early stage breast cancer are similarly favorable."
Two different brachytherapy treatments are available at Gamma West for individuals diagnosed with prostate cancer: Temporary High Dose Rate Implants and Permanent Seed Low Rate Implants. Each is a curative form of treatment.
The HDR implant requires a 24-hour stay in the hospital. Once anesthesia is administered, doctors place flexible catheters into the prostate. Next, radiation from a remote source called an "afterloader" is delivered via the catheters. After three treatments, the catheters are removed and the patient goes home. Individuals treated with HDR brachytherapy are not radioactive after treatment. A follow-up visit is scheduled for three months after the procedure.
The LDR implants require use of a different sort of catheter. Once anesthesia is administered and the catheters are in place, radioactive "seeds" (each is smaller than a grain of rice) are placed within and around the prostate gland margin. The seeds are left in place to deliver a highly concentrated dose of radiation to the tumor. Over time, the dose from LDR brachytherapy diminishes.
Individuals with breast cancer who are eligible for brachytherapy receive one of two treatments at Gamma West. In one treatment, multiple flexible plastic catheters are placed into and around the cancer area. A single radioactive source treats the area at risk via the carefully placed catheters from the inside out. In the second treatment, a device called a Mammosite "balloon" applicator is inserted directly into the cavity where the tumor was surgically removed. The same high-activity radioactive source as used in the first treatment is positioned in the center of the inflated balloon in order to radiate the area.
Neither treatment leaves the radiation in the tissues permanently. Breast brachytherapy requires two brief radiation treatments per day over five consecutive days, which is considerably shorter than the seven weeks of treatment needed for the standard external beam radiation therapy for breast cancer.
"For both prostate and breast cancer patients, brachytherapy permits more precise delivery of the radiation to the cancer itself, with less radiation going to nearby healthy tissues," Vincent says. "In the setting of prostate cancer, we have fewer side effects with urinary and bowel function. For patients with breast cancer we see curative therapy with superior cosmetic results."
Praise From Patients
Patients who have benefited from brachytherapy speak well of both the treatments and the care they received at Gamma West.
A male patient from Ogden, Utah, reports "few side effects and a relatively short recovery period." A woman from Idaho Falls, Idaho, notes that she and her husband were very pleased with his treatment. "We thought the doctors were outstanding and very sensitive to our concerns," she says. A man from Syracuse, Utah, says, "Brachytherapy is the only way to go. I was impressed with the ease with which this treatment was done, and I highly recommend this form of treatment."
Across the nation, brachytherapy is now an important part of the standard of care for patients with cervical, endometrial, prostate, breast and thyroid cancers. In some instances, Vincent says, brachytherapy is also appropriate treatment in the management of cancers of the head and neck, throat, lung, esophagus, rectum and soft tissue tumors such as sarcomas.
Gamma West Cancer Services operates out of Salt Lake Regional Medical Center in Salt Lake City, Ogden Regional Medical Center in Ogden, Timpanogos Regional Hospital in Orem, Coral Desert Surgery Center in St. George, and a new center is currently under construction at Davis Hospital and Medical Center in Layton, Utah. For more information, visit www.gammawest.com.