By Mikal E. Belicove|For Entrepreneur.com|March 22, 2011
LinkedIn co-founder and angel investor Reid Hoffman says now's the time for bold entrepreneurship. Current economic conditions offer an ideal environment for startups, he says, because you have more time to get a new venture off the ground before the competition catches on.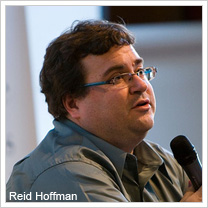 At last week's the South by Southwest Interactive conference in Austin, Texas, Hoffman offered what he calls his "Ten Rules on Entrepreneurship." And if anyone is qualified to come up with such a list, it's this web-savvy wizard who was a founding board member and executive vice president of PayPal and now serves as a partner at venture capital powerhouse Greylock Partners.
Here are Hoffman's top mandates for entrepreneurs:
1. Be disruptive. Ask yourself: "Is this massive and different? It's got to be ten-times different. It's got to be something that changes an industry." Hoffman uses Skype as an example, calling it a disruptive company because, "it removes these very expensive cross barrier phone charges."
2. Aim big. You'll probably wind up plowing the same amount of time into a small business as you will a big one. So, don't be intimidated by your own big ideas, as there are multiple ways of realizing them.
3. Grow your network. Your network includes investors, advisers, employees and customers. With a broad network, you have the ability to make important, global-sized changes.
4. Plan for better or worse. Part of planning is that you might come across something you weren't expecting and you pivot. And if something doesn't work, you must ask yourself: "What is my Plan B?"
5. Maintain flexible…
Continue reading Reid Hoffman's 10 Rules for Entrepreneurial Success