By Mikal E. Belicove|For Community Magazine|January 1, 2008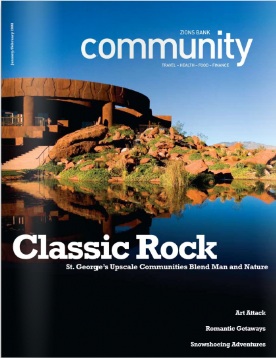 Care to be swept off your feet Medieval style? Adjourn to the Sherwood Forest with the passion of Robin Hood and Maid Marianne. Or retire in an Egyptian oasis where the pharaoh and his queen rule the desert. Enamored by the mystique of the Deep Blue? Enter the enchanting realm of the Atlantis or a host of other magical, creative worlds.
Theme-suite inns make these adventures possible, delivering romantic hideaways in some of the most unexpected destinations – Midway, Utah, where you can turn another page at the literary-themed Blue Boar Inn, and Pocatello, Idaho, home of the incomparable Black Swan Inn.
Stimulating Your Senses at the Distinctive Black Swan Inn
In his best-selling book, "The Black Swan: The Impact of the Highly Improbable,"  literary essayist and derivatives trader-turned-philosopher Nassim Nicholas Taleb describes a black swan as an unlikely creature with three principal characteristics: "It is unpredictable, it carries a massive impact, and, after the fact, we concoct an explanation that makes it appear less random and more predictable than it was."
If Taleb ever makes it to Pocatello, he and his wife should book a suite at the Black Swan Inn, a themed inn that in every sense of his definition, is a truly unique experience.
Built in 1933 and located at the intersection of 7th and Center in the heart of Pocatello, this English Tudor building now home to the Black Swan originally contained 10 two-story apartments. From the street, with its nondescript exterior, you would never know one of Idaho's most unique romantic getaways awaits you.
The mission of its owners is to give couples a chance to escape from their everyday lives and reconnect in exceptional environments. "Our mutual labor of love led us to find the type of deeper appreciation for one another that we try to make possible for our guests," says Larry Fisher, who has co-owned the inn with his wife, Debbie, since 1996.
Larry, a master homebuilder and former fulltime contractor, handcrafted each suite with a small team of expert carpenters. Debbie, who had never seriously painted or sculpted before purchasing the property, created the  murals, paintings and sculptures, including the life-like camel in the Arabian Nights Suite, and two 12-foot pharaoh-like statues in the Egyptian Suite.
A Suite to Suit Every Taste
The Black Swan Inn took flight in 1997 when the first of its 15 rooms, the Caveman Suite, was completed. Surrounded by hand-carved stone and scattered furs, you and your sweetheart can cozy up near the fireplace, shower under a waterfall, and relax in a bubble-filled two-person jetted tub while watching a movie on a big screen TV. Cavemen never had it this good.
If you have loftier tastes, try the pharaoh's opulent Egyptian Suite, where Debbie's 12-foot statues adorn the walls and two golden cobras fill the jetted tub. Climb a short flight of stairs to the elevated bedroom overlooking the rest of the suite, and share a soothing massage in the built-in massage parlor.
For a more refreshing getaway, dive down to the ocean floor in the Atlantis Under the Sea Suite. Instantly, you enter a life-size aquarium and are surrounded by breathtaking ocean views and a host of striking sea creatures. Jutting into the middle of the suite, is a round king-size bed, surrounded by granite fluted pillars, capped by a domed ceiling adorned with a hand-painted fresco. Perhaps the most remarkable treat is the shower, where colorful fish swim in its built-in aquarium.
A total of 15 suites ranging in price from $99 to $229 per night are available, with names such as the Romeo and Juliet, Jungle Falls and Mayan Rain Forest. Each room has a two-person jetted bathtub, widescreen cable television with HBO, DVD player, microwave and refrigerator, and gas fireplace.
The Black Swan Inn does not offer hot meals. Instead, you have the option of taking a custom-prepared basket of foodto your room (you choose exactly what goes into it – breakfast pastries, juice, yogurt, fruit cups, breakfast bars, and so on) or a gift certificate for breakfast at a local restaurant.
Nearby Activities
After checking in, it's unlikely you'll want to leave, but if you do, you'll find plenty of eateries and amenities perfect for wooing your sweetheart. A short drive from the Black Swan Inn is Cielo Su Terra (444 Hospital Way #488, Pocatello, 208-239-0661), a spa that offers a "couples retreat," complete with a couple's massage, skin treatments, and spa pedicures.
If you work up an appetite, consider heading to the Continental Bistro located in the Old Town section of Pocatello – an area brimming with quaint little shops. A light lunch or dinner of crawfish bisque, a hot crab and avocado sandwich, or a decadent bread pudding created from a fresh-baked croissant and chocolate chips might just be the aphrodisiac you desire before returning to your room. The Continental Bistro (140 S. Main St., Pocatello,208-233-4433) offers its own amorous ambience, with several cozy and romantic tables scattered throughout the restaurant. Pocatello is located approximately 2.5 hours from Salt Lake City, 2.5 hours from Jackson Hole, two hours from Twin Falls, and  rests halfway between Salt Lake City and Yellowstone National Park.
Rediscovering Romance at the Blue Boar Inn
Ideally situated in the foothills of Midway, Utah, adjacent to two golf courses, is the romantic and unique Blue Boar Inn, featuring 12 literary-themed guestrooms, indoor and outdoor fine dining, a pub and a garden of redolent flowers.
Owners John and Marva Warnock have made continual improvements since acquiring the property in 1999, formerly called the Huckleberry Country Inn, and have garnered much recognition for their efforts. The Four Diamond restaurant boasts the highest possible Zagat rating of 26, has received Wine Spectator's Award of Excellence, and has been named a Utah top-dining establishment by the Best of State organization. In addition, the inn received medals in the categories of Best Chef, Best European Dining and Best Brunch.
The Warnocks purchased the Blue Boar upon the condition that their longtime friends, Jay and Sandy Niederhauser, would be its innkeepers. The Niederhauser's were both about to retire from careers completely unrelated to the hospitality industry when they accepted the Warnock's offer. Eight years later they're still there, greeting guests and tabulating the hours of its 35 employees.
"We're open for all meals seven days a week," Jay says, and the inn is busy with overnight guests hailing primarily from Utah every weekend year-round.
Ever Evolving
Probably the first improvement the Warnocks made was to give the inn a name "with a little more muscle behind it," says Jay. After much research and brainstorming, the couple settled on the Blue Boar Inn, named after a fictitious tavern in Howard Pyle's classic children's novel "The Merry Adventures of Robin Hood."
They thought the name sounded enchanting. "It doesn't relate to a painted boar, but a breed that roams freely in England," Jay says. "He's not a beautiful animal, but we find a lot of charm in the blue boar."
Meticulous attention was paid to selecting the inn's elegant European décor. Twenty-three panels of hand-carved oak were placed on the doors. The Truffle Hollow Pub features a 16th century piece of furniture from France transformed into a bar. Crossbows from the 13th, 14th and 17th centuries hang on the walls.
The lobby features a handcrafted wooden staircase. The romantic and open dining room has vaulted ceilings, candlelit tables, a "kachelofen" stove imported from Austria, and chandeliers made from European fallow deer and red stag antlers.
The Blue Boar Inn's restaurant opened its doors a few months after the lodging facilities began taking reservations. Its current chef, Chris Sheehan, pairs modern-day favorites with American and European ingredients and cooking methods to create dishes that change with the seasons. The menu features many dishes with organic ingredients, and Sheehan enjoys incorporating fresh herbs from the inn's garden. During the warmer months, guests can dine on The Hinterhof (German for "patio behind") outdoor patio, located adjacent to the inn's gardens with majestic views of the Wasatch Mountains. The inn's most recent improvement was more authentic Austrian art on its exterior, painted by Gerhard Lipp, who also did much of the work on the new Zermatt Resort just down the street.
A Room with a Theme
Pick your favorite author then surround yourself with his or her books and memorabilia for a night or two.
Featured authors include Ralph Waldo Emerson, Geoffrey Chaucer, Robert Frost, Jane Austen, Charlotte and Emily Bronte, William Morris, Rudyard Kipling, Emily Dickinson, William Shakespeare, Charles Dickens, Elizabeth Barrett and Robert Browning, and Lewis Carroll.
Each room is accented with fireplaces, European pillow-top beds, fresh flowers, jetted tubs, and a fruit and cheese plate upon arrival. The Charles Dickens room features a leather queen sleigh bed and hand-carved wooden ceiling, and the Elizabeth Barrett/Robert Browning suite has a hand-woven English floral carpet and private balcony.
This year, enjoy the inn's "Bed, Balloon and Breakfast" package featuring overnight accommodations, a 30-minute romantic hot air balloon or helicopter tour of the Wasatch Mountains, and a gourmet three-course European breakfast. In addition, guests receive a basket of homemade pastries and sparkling cider to enjoy on their balloon or helicopter ride.
Nearby Activities
It goes without saying that the Alpine community of Midway where the Blue Boar is strategically located near every winter activity imaginable. That is, if you even want to venture outside the cozy confines of the inn. Options include sledding, skiing, snowboarding, snowshoeing, cross-country skiing, snowmobiling, tubing, sleigh riding and bobsledding. Midway is just 20 minutes from three Park City ski resorts.
During the warmer months, you'll find 54 holes of golf, hiking, biking, fishing, scootering, horseback riding, and now, "fine picnicking."
"We ferry people to mountain peaks by helicopter where they have a very classy picnic with lobster and all types of very fine picnic items like champagne, bubbly cider, bottled water, silverware, crystal and china for slightly over $l00 per person," Jay says. "It's a bargain."
Romantic B&Bs and Inns
Idaho
The Anniversary Inn
1575 S. Lusk Ave.
Boise, ID 83706
208-387-4900
800-324-4152
www.anniversaryinn.com/boise.php
Black Swan Inn
746 E. Center
Pocatello, Idaho
208-233-3051
Blue Heron Inn
4175 E. Menan Lorenzo Highway
Rigby, ID 83442
208-745-9922
866-745-9922
The Hearthstone Lodge
Highway 12, Milepost 64
Kamiah, ID 83536
208-935-1492
877-563-4348
Wild Rose Manor
5800 Oasis Road
Caldwell, ID 83607
208-454-3331
866-399-3331
Utah
The Armstrong Mansion
667 East 100 South
Salt Lake City, UT 84102
801-531-1333
800-708-1333
Blue Boar Inn
1235 Warm Spring Rd.
Midway, UT 84049
435-654-6459
888-650-1400
Haxton Manor Bed & Breakfast
943 E. South Temple
Salt Lake City, UT  84102
801-363-4646
877-930-4646
Johnson Mill Bed & Breakfast
100 Johnson Mill Road
Midway, UT 84049
435-654-4466
888-272-0030
The Lodge at Red River Ranch
2900 West Highway 24
Teasdale, UT 84773
435-425-3322
800-205-6343
Providence Inn B&B
10 South Main
Providence, UT 84332
435-752-3432
800-480-4943
Stein Eriksen Lodge
7700 Stein Way
Park City, UT 84060
435-649-3700
800-453-1302