By Mikal E. Belicove|For Entrepreneur.com|April 21, 2010
If you're dipping your big toe into the waters of social media marketing–all the while wondering if these somewhat obscure channels will really help promote your business or brand–I've got some good news for you. A well-researched report entitled the "2010 Social Media Marketing Industry Report," was published this month, and it should be required reading for entrepreneurs and small-business owners.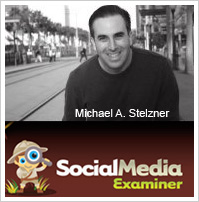 It was put together by Michael A. Stelzner, the so-called grandfather of white papers.
Stelzner, who is also the founder of SocialMediaExaminer.com, asked 8,600 marketers to participate in a survey and ended up with a respectable 1,898 e-mailed responses.
The respondents were mostly small-business owners focused on attracting other businesses or consumers. The median age was 40 to 49 and females represented 60 percent of the participants. A majority of respondents said they currently invest at least six hours a week in social media activities, with another 12 percent saying they spend more than 20 hours per week focused on social media-related marketing. 

The Benefits of Social Media The top benefit of social media marketing, according to a whopping 85 percent of the respondents, was the fact that social media was…
Continue reading Small-Business Owners Cite the Benefits of Social Media Marketing…