By Mikal E. Belicove|For Entrepreneur.com|October 5, 2010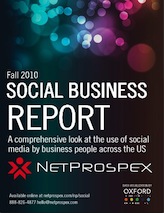 NetProspex, a Mass.-based company that manages a B2B focused sales and marketing database platform, has released its Fall 2010 Social Business Report, which it touts as "a comprehensive look at the use of social media by business people across the U.S." (I have some serious issues with the report, but more about that later.)
This new report reveals the state of social media use by business people across all industries, geographic regions and job functions. The 25-pager follows on the heels of a report released in May that included NetProspex's snapshot of social media activity among employees of the nation's top corporations. Both reports include a listing of the 50 most social corporations in America.
Using what it calls the NetProspex Social Index, corporations were ranked on how often their employees used social networking tools such as Twitter, Linkedin and Facebook. An NPSI score is a composite of three numbers:
Social connectiveness: The number of employees with at least one social media profile.
Social friendliness and reach: The average number of connections per employee across these networks.
Social activity: The average number of tweets, followers and users the employee is following.
NetProspex grouped employees into industry categories and then took the average "NPSI" of the overall industry. More than two million contacts were analyzed from within NetProspex's business contact database.
Predictably, the search engines and online portals industry topped the list, ranking as the most social media savvy industry in the country with a NPSI rating of 98.74 — nearly a third higher than the second-place entry. Second was the advertising and marketing industry with a 63.93 rating, followed by banking, which outpaced the traditional media industry this time around with a 63.44 compared with media (TV, radio, newspapers and magazines), which scored a 55.11.
Other industries ranking in the 50 percent range were toys and games — named the most media savvy in the consumer products sector — followed by…
To continue reading Social Media Savvy Companies and Their Employees