By Mikal E. Belicove|For Action Sports Merchandising |November 1, 2011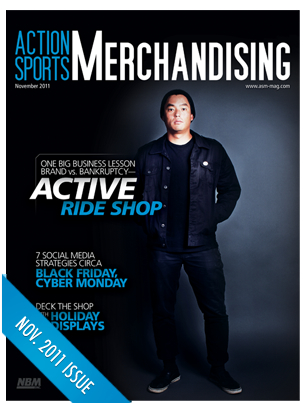 To paraphrase political commentator and stand-up comedian Lewis Black, we don't really like to celebrate the holidays anymore; we just like to announce that they're coming. Black of course is talking about you, the independent specialty retailer who, along with your larger and big box brethren, count on fourth-quarter sales to end the year on a positive note.
Assuming you know your demographic, what they want, and how to reach them, you similarly know that now's the time to plan your holiday promotions (in fact, "now" might even be a little optimistic depending on the length of your marketing and social media to-do list. Not to worry. There's still an opportunity to cash in on the impending holiday rush). Before you know it, trick-or-treaters will be knocking on your door, signaling less than 30 days till Thanksgiving, Black Friday and Cyber Monday. Plan your promotions in advance and you stand a good chance of kicking off the holiday shopping season like clockwork. Fail to recognize opportunities associated with the start of the shopping season and that might be you sobbing alongside the kids whose parents waited until the last minute to buy the most sought-after merchandise.
Reaching the growing population of social shoppers
The consumer market has a growing population of "social shoppers" — prospective customers who land on your website or walk through your door as a result of something they saw, read or clicked on while using a social utility like Facebook or Twitter. These social shoppers are more than twice as likely to make a purchase than the overall population, according to CoreMetrics, an IBM company that provides web analytics and marketing optimization solutions to retailers. Perhaps even more important is that they're also far more likely to share the experience with their friends and family.
So, how do you increase the number of social shoppers buying from your surf, skate, snow, or other human-powered outdoor recreation retail operation? If you haven't done so already, an evolution in your thinking is in order.
Recognizing the five P's of marketing
If you studied marketing, you probably remember the "Four P's" — Product, Price, Place and Promotion. Basic stuff that for years has comprised what everyone has come to accept and believe is the optimal marketing mix. Enter social media's user-generated content (drum roll here) and a fifth P emerges — Participation.
Social shoppers participate in marketing by visiting, commenting on and sharing your blog posts. They "Like" your business or brand on Facebook and they comment on your status updates. You'll find them following and retweeting you on Twitter, and searching for your products and services on popular search engines like Google. If you're fortunate, they're writing and sharing reviews about you. And the list goes on. Social shoppers offer you the opportunity to go viral, so engaging and exciting them enough to share what you have to offer must be an essential component of your marketing strategy. That's participation.
Seven social media marketing tips for action sports retailers
Whether your business is online, offline — or both — consumers looking for deals this holiday season will look for you and your products online and check to see if you have a Facebook Page, Twitter account, website or blog or other online profiles. Assuming you do, they will "Like" and "Follow" you accordingly, allowing your retail operation to leverage the trust in friends to promote products. That being the case, here are seven tips for capitalizing on Black Friday and Cyber Monday using social media:
Use your website as a gateway to the social Web: This may seem fairly obvious, but if you have Facebook, Twitter or YouTube profiles, be sure to link to them from every page on your branded website. Despite the rise in popularity of social networking, consumers value branded websites more than any other form of online marketing — and they visit them at nearly twice the rate. Use your website as a gateway to the social web and you're likely to increase the number of likes, follows, and subscribes you receive on Facebook, Twitter and YouTube. That in turn raises awareness of the promotions you're going to call attention to on these same social media utilities and platforms. Remember, when customers like, follow, or subscribe, they have the potential to spread the word to their friends and family, often creating some of the most valuable word-of-mouth advertising that money can't buy.
Communicate holiday promotions – countdown style – via email: While we're on the topic of your website, encourage visitors to sign up for an eNewsletter. It's not too late to leverage this highly effective opt-in email marketing vehicle this holiday season, so if you haven't set one up yet, do so now. This is the time when your website is about to see a sharp spike in traffic, so leverage that traffic by encouraging site visitors to subscribe to your eNewsletter, and start building an email marketing program that delivers your brand and promotions to your customers' email accounts year-round. And if you already have an email marketing program or branded eNewsletter in place, start communicating your holiday promotions – countdown style. Start during the three weeks leading up to Black Friday (Nov. 25) and Cyber Monday (Nov. 28). While it's usually not advisable to pepper your customers with email, doing so is perfectly appropriate between Nov. 1 and Dec. 20 — as long as you have something of value to offer, such as free shipping or other incentives consumers have come to expect or appreciate this time of year.
Launch your own Groupon: While Groupon, LivingSocial and BuyWithMe are all the rage, many retailers find themselves full of rage when they realize these daily deal giants snatch 30-50 percent of the gross revenue and don't even share the buyers' names and email addresses. Take control of the group couponing space by using one of the many white label daily deal solutions available to specialty retailers. White label technology is available from companies like AnalogAnalytics (www.AnalogAnalytics.com),  ChompOn (www.ChompOn.com), Deal Current (www.DealCurrent.com), Group Commerce (www.GroupCommerce.com), NimbleCommerce (www.NimbleCommerce.com) and PoweredByTippr (www.PoweredByTippr.com). These companies enable your retail operation to trigger deals on your schedule, adjust your offerings to match your real-time inventory and manage your leads while retaining more gross revenue for your business.
Tap into the power of location-based marketing: Facebook (www.Facebook.com/deals/checkin), Foursquare (www.Foursquare.com/business/venues), Gowalla (www.Gowalla/business), SCVNGR (www.SCVNGR.com/business) and other geolocation apps and programs allow your business to present special offers to customers and prospective customers via their smartphones or other mobile devices. These location-based marketing offerings raise the level of awareness of sales and promotions you're planning for Black Friday and Cyber Monday. They also generate word-of-mouth advertising, build long-lasting relationships with customers and build a community around your brand. Consumers like location-based offers because they can save money where they are, while at the same time engaging in their favorite activities and sharing deals with their friends. To get started, visit any of the URLs listed above.
Create an @Deals account on Twitter: Most retailers, if they have a Twitter account, force all of their news and information through one feed. Rather than overwhelm your followers with general announcements, retweets, sale notifications and mundane observations all through one Twitter feed, set up and promote a second Twitter account that's devoted exclusively to deals and special offers. Name the account @YourStoreNameOffers or @YourStoreNameDeals, and only use the account to tweet out your special offers, discounts, sale items, deals and other promotions that have a limited time offer. If your website is ecommerce-enabled, create unique URLs to associate with each item you promote through the second Twitter account. That way you can track the effectiveness of each tweet and quickly determine your ROI. Retweet your deal account tweets via your standard business Twitter account and promote signup for the deals account via your website, Facebook Page, eNewsletter, email marketing campaigns, and at point of purchase.
Use QR (Quick Response) codes to raise the level of awareness of your in-store promotions: If you're unfamiliar with QR codes, these are two-dimensional bar codes that your customers can scan using a smartphone. These codes, once scanned, offer instant access to content — including web pages, store hours, contact information and even coupons or special offers — which customers can use right away. Free-to-create using sites like QR Code Generator (zxing.appspot.com/generator) and Kaywa (qrcode.kaywa.com), QR codes should appear in print advertisements, flyers, postcard mailers, billboards and other places where it might not be practical to publish an unusually long or complicated website address or lots of other information due to space constraints. By highlighting promotions that are only available via in-store QR codes via Facebook and Twitter, you increase your chances that foot traffic — buoyed by a sense of urgency to gain access to an in-store QR code — converts to sales.
Leverage the point of sale for future engagement: If you run a brick and mortar operation, edit your point of sale receipts to include information about your 2011 holiday promotions, social networking profiles and anything else that will raise awareness and your customers' level of engagement about you and your brand. Also, be sure to train anyone working checkout about sharing key messages, talking points and handouts related to your Black Friday and Cyber Monday sales. Use these unique face-to-face opportunities to put a face on your upcoming holiday promotions.
Looking back on these tips, some of you are bound to be saying, "What an order! How am I supposed to accomplish all this?" And it is quite a laundry list. But here's the thing: You've probably already put much of this in place. And despite the time constraints, there are still ample hours in the day to complete the rest.
Think back to when you began setting up your shop. Chances are you didn't get it all done the first week. You probably accomplished one task at a time and then moved onto the next task. Same goes here. But like anything else, getting started now is way preferable to waiting until the mood strikes you.
Looking back at what you've already accomplished with your business, this should be a piece of cake!
SIDEBAR
Underscoring the importance of late November sales are some pretty impressive numbers. Despite the 2008-2011 global economic downturn, U.S. consumers spent about $45 billion over the Black Friday weekend in 2010 (an 8.4 percent increase from the $41.2 billion spent in 2009). They spend another $1.028 billion on Cyber Monday (a 16 percent increase from the $887 million spent in 2009), according to the National Retail Federation (NRF) and comScore, respectively. And with the growing influence that participatory and word-of-mouth marketing plays on consumer purchases, social media-related marketing is certain to play an important role when the final 2011 shopping figures are released in early 2012.