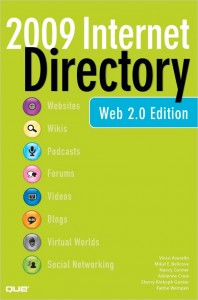 The Internet has changed dramatically in the past few years. It used to be that when someone said they found something online, they meant a static website, and most Internet directories were essentially just website directories. Nowadays, more sources of information exist online, many of which are optimized for community-based participation and interaction.
The trouble is that there's no consolidated directory of all these diverse Web 2.0 sites. That's where the 2009 Internet Directory: Web 2.0 Edition comes in. This book is a one-stop directory covering hundreds of subjects, spanning multiple content types. In this book you'll find listings for websites, blogs, video-enabled sites, social networking sites and platforms, virtual worlds, wikis and more.
Order your copy of the 2009 Internet Directory: Web 2.0 Edition from Amazon.com today.