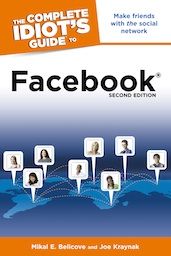 The Complete Idiot's Guide to Facebook, 2nd Edition — Published October 4, 2011
In the days B.C. (Before Computers), losing touch with friends and family was a part of life. You'd graduate and all your school chums would wander off in different directions. You'd leave your job and lose valuable contacts. Aunts, uncles, and cousins would seem to fall off the face of the earth. Even keeping in touch with siblings hundreds or thousands of miles away was a challenge.
Facebook, with the help of computers and the Internet, has reversed that trend. Not only does it enable you to stay in touch with people, but it also facilitates the process of tracking down people you lost touch with years or decades ago. Facebook also provides numerous ways for you to engage and interact with all these folks daily – by sharing status updates, photos, and videos; posting links to favorite web pages or blogs; chatting; messaging; playing games; planning events; gathering in groups; and so on. And if you're in business (big or small), Facebook provides several valuable tools to keep in touch with customers and clients right where many of them like to hang out most.
Perhaps best of all, Facebook is free, and all you need to get started is a computer with an Internet connection and a desire to connect with others. If you're concerned about privacy, you'll be relieved to know that Facebook gives you complete control over whom you choose to "friend" and the information you choose to share.
If you're concerned that you don't know where to start, that's where we come in. In this book, we provide everything you need to know to get started on Facebook; track down friends, family members, colleagues, former classmates, and others; promote your business or yourself; and tap the full potential of Facebook.
Visit Amazon.com to order your copy of The Complete Idiot's Guide to Facebook, 2nd Edition