By Mikal E. Belicove|For Entrepreneur.com|August 19, 2010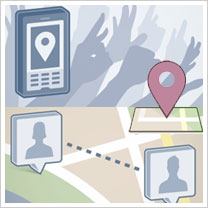 After the initial buzz dies down, most of the chatter surrounding Facebook Places — the just-now-released location-based check-in tool — will likely focus on how it might affect similar social networking tools like Foursquare,Loopt, Gowalla and Whrrl. Oh, there will be some discussion of privacy concerns to be sure, but what will be left out of the equation is any serious talk about how you can use Facebook Places to grow your business.
But I'm getting ahead of myself. A Facebook Place page — once you've staked your claim on it — enables your customers to see a map from their iPhone or other mobile device that includes your business (the Place) and a list of their Facebook friends and associates who are currently checked in at your business. It also includes a Friend Activity stream comprised of other friends who have stopped in at the Place at one time or another.
In addition, your Place page can feature information about your business, and you can put up a story about your Place page on your Facebook profile simply by hitting the "Share" button on the page. Place pages differ from Facebook pages and Community pages in that they are only added if your customers decide to "Like" those pages. According to my Facebook contact, Page admins will be able to merge their Place page with their official Page on Facebook.
The bottom line is this: If your goal is to attract attention to your business, Facebook Places is a tool you definitely need in your social networking arsenal. Use the following to make the task of setting up a Place page easier:
The first thing you must do as an owner, manager or representative of your business is to verify to Facebook that you are who you say you are. Find the Place on Facebook that you want to claim for your particular business and then click the link that reads, "Is this your business?"
You will then be asked to complete a simple verification procedure that will enable you to "claim" your Place as your own. Following this step, Facebook will provide some additional steps in order to create a new Place. You'll be asked to access the application on your iPhone using the new Facebook app, or another web-enabled mobile device. Once you "Check In," you'll be asked to click the "Add" button and then enter a name for the new Place. You'll also be offered the option of providing a description of your business.
After that, you can describe what it is you're doing at the new Place and begin tagging Facebook fans and friends. Click "Check In" and you're ready to share your visit. And now that you've got your newly created Place of your own, your friends, customers and the general public can find your Place while perusing Facebook or the Places application.
What you don't want to do is read the above and tell yourself you've got to get around to doing what I suggest someday soon. It's critical, I feel, that you claim your Facebook Place now! It's a lot like claim jumping in the Old West. By staking your Place now, you and only you can..
Continue reading Use Facebook Places to Boost Business and Lift Sales