By Mikal E. Belicove|For Entrepreneur.com|November 4, 2010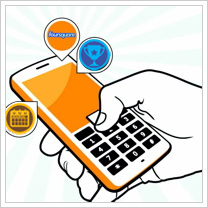 Based on a Pew Internet survey released this morning, only 4 percent of American adults who go online on a regular basis are using any form of geosocial or location-based services like Foursquare. And on any given day, only 1 percent of internet users are taking advantage of these services. To complete the survey, Pew Research Center's Internet & American Life Project, based in Washington, D.C., contacted 3,001 ages 18 and older between Aug. 9 and Sept. 13, 2010.
Not surprisingly, the report shows that those who are in the habit of sharing their immediate location with their friends — or "checking in" with acquaintances who might be in the immediate neighborhood — are more likely to be young and mobile adults between the ages of 18 and 29. These geosocial gadflies who go online with their mobile phones use a location-based service like Foursquare or Gowalla, according to the study.
But perhaps we should take a second to describe the geosocial service to those who might be unfamiliar with the concept. Location-based services, which run on standalone software applications, or "apps," permit users of smartphones and other mobile devices to notify friends when the user is nearby
These services are somewhat like Facebook or Twitter status updates — sending short messages online or by text to update friends on your whereabouts and activities. The benefit to entrepreneurs and business owners comes when users "check in" from their establishment, leaving comments or reviews for their restaurant, coffee shop or other business in the form of electronic messages that have the potential to be seen by their pals and others.
Savvy businesses and organizations are just now coming up with ways and means to induce these "check-ins" by offering their geosocial customers incentives and rewards for doing so.
But the just-released Pew report finds that progress has been slow. Of the 4 percent of adults who participate in such online social engagements, the survey showed that…
Continue reading Use of Geosocial Services is Underwhelming — for Now