By Mikal E. Belicove|For Entrepreneur magazine|February 1, 2010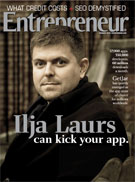 Because video has become the new darling of search engines, many startups are rushing to create and post video on their websites. Just run a Google or Bing search on any topic, and links to video clips pop up right on page one. The reason for this is that search engines are tripping over themselves to provide blended search results­–links to news, blog posts, photos, video and other specialized content all mixed together. To ensure video is included in the results, search engines give them preferential treatment.
This trend presents startups that are able to produce quality video content with tremendous search engine optimization (SEO) opportunities. In fact, Forrester Research reports that compared with standard SEO techniques, a properly submitted video is 50 times more likely to achieve a first-page Google ranking. And because video is in such short supply, relative to other web-based content, the competition for search engine attention is less fierce.
Many startups and entrepreneurs are not yet taking full advantage of this opportunity. They are not using web-based video, are disregarding video SEO, or are trying but doing it all…
Continue reading Video SEO for Your Website: Optimize your site's search engine ranking with video…