By Mikal E. Belicove|For Entrepreneur.com|January 8, 2010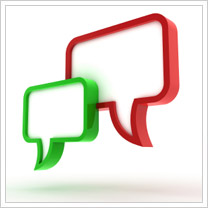 As companies turn to Facebook to boost their business, they notice more people posting Facebook Status Updates, Notes, Pictures, and Video than are posting comments on their company blog. As a result, business owners and marketing managers tend to do one of two things:
Discontinue blogging altogether, because all the action is on Facebook.
Wonder what they can do to generate more comments on their blog.
Cross that first option off your list right now. Abandoning your blog for Facebook is a lousy decision, and I will tell you why in a post slated for next week. Opt for the second solution, instead – do what you can to attract more comments on your company blog. Following are five tips for doing just that:
Allow your readers to subscribe to your blog's comments. This allows your readers to instantly receive updates via email or RSS (really simple syndication) anytime someone leaves a comment on a particular blog entry. (If you're running a WordPress-powered blog, adding this functionality is as simple as installing the Subscribe to Comments plugin.) This makes visitors more inclined to leave a comment, because they can follow the discussion or, more precisely, the discussion follows them via email or the RSS feed.
Promote your blog posts on Facebook and Twitter. While numerous automatic feed solutions are available for sending your company's blog posts to your Facebook Fan Page or to your followers via Twitter, these should not preclude or excuse you from…
Continue reading 5 Tips to Attract More Blog Comments