By Mikal E. Belicove|For Entrepreneur.com|January 25, 2011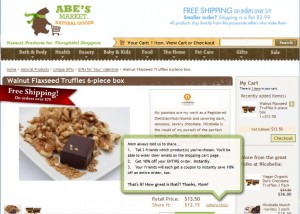 Over the weekend, I made a purchase online from a site called Abe's Market. I was looking for a hard-to-find product and Google pointed me in Abe's direction. It's a great-looking site, focusing exclusively on "Green, Natural, and Eco-Friendly" products. It's easy to navigate, has an exceptional blog with lots of helpful information — and it had exactly what I was looking for.
But here's what knocked my socks off. Upon checkout, I was offered an immediate discount of 10 percent on my entire order if I would simply agree to tell three of my friends which products I was about to purchase. I was so impressed by this innovative social commerce offering that I contacted the company to find out more.
Turns out the incentive, called "Share It," was launched last May. The discount is offered with no strings attached or additional buying required. Abe's philosophy about all this is that since we're already sharing our lives through Twitter, Facebook and other sites, shopping shouldn't be any different.
Here's the thinking behind the "Share It" program: First, there's nothing more powerful than a friend telling a friend to buy a product. Secondly, the rewards are instantaneous. Other promotions invite you to share with your family or friends to get a discount, but those folks have to buy something before you get your reward. Abe's "Share It" feature gives shoppers an instant discount — regardless of whether their friends buy anything from the site or not.
Sounds good on paper, but how has "Share It" fared in the eight months or so since inception? The company has seen product orders skyrocket by 900 percent! Talk about viral marketing, this program offers a pass-along rate that rivals a celebrity rehab rumor on TMZ.
Consider these stats…
Continue reading A New Twist on Offering Savings Through Social Media