By Mikal E. Belicove|For Launch Magazine|December 1, 2007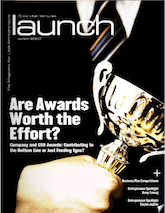 Do awards have any measurable impact on business? Nearly every business magazine has a "Top What-have-you" company or CEO list. Often, the application or nomination process for these awards includes entry fees, certified financials, detailed written statements, supporting nominations, and more. When balanced against the human resources, fees, and the sheer time it takes to monitor and apply for such awards, is the recognition worth the cost, and does anyone aside from the individual award winner really care?
Chances are pretty good that when you were in high school, you received a letter from "Who's Who Among High School Students" announcing that you had been selected as one of the chosen few. You simply needed a teacher or coach to "nominate" you, and then submit a form with your biographical information, but that was all relatively easy. Upon acceptance, your name and biography would be published along with the names and bios of other so-called "top" high school students across America. You and your parents and grandparents and your monkey's uncle could then purchase the treasured volume and other memorabilia to add to the other dusty collections on their shelves.
Not to be outdone, corporate America has followed suit. Every year, the CEOs of large and small companies alike scramble (some would say pander) for the honor of an Ernst & Young Entrepreneur of the Year Award or one of the Inc. 5,000 Fastest-growing Private Companies in America. And those are only two of a veritable cornucopia of "prestigious" awards that CEOs and their companies vie for.
Economist and author Jeff Thredgold compares the surplus of awards to the over-blown entertainment industry. "Twenty-five years ago, actors and musicians vied for a select number of awards, and they each meant something," says Thredgold, who serves as an economic consultant to Zions Bank. "Television actors had the Emmy's; stage actors had the Tony's; musicians had the Grammy's; and the screen actors had the Oscars. Nowadays, we're inundated with nearly 100 different televised awards, ranging from the Teen Choice Awards to the People's Choice Awards, and everything in between. Well, the business community is in exactly the same boat. The more awards we create, the less relevant they all become."
Most people assume unbiased judges are responsible for selecting the companies and CEOs based on outstanding effort and performance, but that is not always how it works. The granting of some awards is more like a beauty contest. Many only select from the companies who have applied for their validation. Here is where the pandering begins. Much of the competition is automatically eliminated simply because they failed to fill out the proper forms and in some cases, pay an entry fee, which can be a good chunk of change. In addition, during the application process, companies have been known to fudge facts. Instead of reporting that sales and revenue crashed for the first three quarters of 2007 (which they are not required to do), companies can boldly report that revenue soared from 2003 to 2006, securing a coveted position on the Inc. 5,000 list of Fastest-growing Private Companies in America. And really, who can blame a company for doing this when the vast majority of business awards only consider past, not current, forecasted, or even booked revenue?
The irony of these awards is often missed by the proud CEOs but rarely overlooked by company employees. Those in the trenches are the ones who take time out of their workdays to complete the necessary paperwork or participate in company-wide polls. They are also the ones who witness the carnage when their CEOs, upon receiving their prestigious awards, allow it to pump up what may already be an inflated ego. The CEOs travel to the awards ceremony to pick up their plaques or trophies and make speeches where they accept credit for the accomplishments of their entire team. They also meet other award-winning CEOs, and sometimes decide to dump their lifelong advisors to pay more heed to their newfound friends. In short, CEOs stop listening to the people who got them where they are and join an elite group of mutual admirers. Company-wide resentment follows, which undermines any efforts to boost morale and productivity.
Admittedly, this is a somewhat cynical view based on a couple dozen interviews with front line employees and mid-level managers who, not surprisingly, spoke on the condition of anonymity, for fear of reprisals from C-level executives. The CEOs who chase these awards, however, are unanimous in their belief that awards are beneficial and well worth the time and resources required to chase after them.
Ego Boosters
When asked, "Is the recognition you or your company received worth it?" David Goldsmith, president of MetaMatrix Consulting Group in upstate New York, spoke for nearly every CEO interviewed, saying without reserve, "Yes, absolutely!"
Only one was less enthusiastic, Jim Parker, former CEO of Southwest Airlines. During his tenure as CEO, Southwest received many awards, including "Airline of the Year" by Air Transport World magazine; a nod from "100 Best Corporate Citizens" by Business Ethics magazine; and recognition from Fortune magazine as one of the country's most respected companies. "None of these awards involved onerous application processes or campaigning," Parker says. "I don't think you could say that any of them had any particular monetary or business value, but I think they did represent well deserved recognition for the great employees of our company and the superb job they did every day."
Most of the other CEOs agreed with Parker's view that awards are great for boosting employee morale and recruiting new talent. "One of my top priorities as CEO is to create a culture in which the employees are happy, motivated, and productive," says Dale A. Walters, CEO of Phoenix, Ariz.-based Keats, Connelly & Associates. "One of the best ways to create a positive culture is to create pride in the company and pride in their work. Having a third party attest to the quality of the company is much more effective."
Like Walters, most CEOs agree that the primary benefit of third-party recognition and awards is internal; awards function as a powerful tool in motivating employees and acknowledging their achievements.
Jeremy Hanks, co-founder and chairman of the board of Orem-based Doba, summed it up best, "People like working for 'winners.' These types of awards allow us to position the company as a 'winner.'"
Although the internal benefits seem to outweigh any external benefits, several CEOs pointed out that they did leverage the awards in their marketing and public relations campaigns. "The recognition has led to many public and private speaking opportunities," says Robert Tuchman, president of New York City-based TSE Sports & Entertainment. "These engagements have led to further business for the company. Being recognized has also led to two current book deals and a No. 1 rated radio show hosted on sports business."
Jeff Grady, CEO of Digital Lifestyle Outfitters in Durham, NC, admits he was able to parlay one award into additional opportunities. "Once our initial win of the Inc. 500 award was publicized in 2006, awareness of the company increased tremendously. The producers of CNBC's 'Big Idea with Donny Deutsch' were intrigued by my startup story and contacted me to appear on the nationally televised program. The exposure on CNBC, in turn, caused CNBC to contact us to be featured in a marketing campaign for the network."
PR and Networking Perks
Awards also function as a networking catalyst for many CEOs, giving them the opportunity to rub elbows at local and national award ceremonies. According to Mike Nikolich, CEO of Chicago-based Tech Image, meeting fellow nominees has been a major benefit of the awards he receives. For example, when The Holmes Report named Tech Image "Best Boutique Agency to Work For," Nikolich flew to New York for the awards banquet. "While I was there, I was able to talk and exchange ideas with leaders of other top-notch agencies from around the country. That's not something that occurs every day," says Nikolich.
Many CEOs use their awards as launch pads to win speaking engagements. "With me specifically, the awards have given me more speaking opportunities which have lead to even more speaking opportunities," says Gary Swart, CEO of oDesk.com in Menlo Park, Calif.
Only one CEO, Brian Beutler of Lindon, Utah-based Alianza, noted receiving a measurable gain on the bottom line for the company. In the spring of 2006, his business plan and investor pitch won the Brigham Young University Business Plan Competition. "The press and buzz that resulted was instrumental in helping me close out our Series A round of financing," Beutler says.
Possibly the most significant benefit of third-party awards comes from the process of pursuing them. If the award comes as a result of developing a great product or delivering superior service and results, then the award may have merit. However, if the purpose is merely to stroke egos, then it is of little value or maybe even worse — if the CEO fails to share the award equally with the employees, a loss will result in both morale and additional success.
Pursuing the Prestige
Paul Spiegelman, CEO of Bedford, Texas-based Beryl Companies, uses awards as a benchmark to set higher standards for his company. "In order to win awards, you have to do things well," Spiegelman says. These awards generally recognize achievements that are contributors to business success. While they generate great pride and marketing appeal, the value to me personally is the challenge of living up to the standards that allow us to be recognized. In other words, how do we get good enough to win, and what can I do personally to support that? Quite simply, it makes us better."
Steve Smith, co-author of "Egonomics: What Makes Ego Our Greatest Asset (or Most Expensive Liability)," believes this is exactly the sort of viewpoint CEOs should have when looking at these awards.
"It's not the award itself that is good, bad or innocuous," Smith says. "The value of pursuing any award, and whether it adds or detracts value from company, is the intention driving the CEO or company to pursue the award or the 'prestige' in the first place. At the end of the day, focusing on creating truly great products and building an exceptional company will bring the relevant rewards, whether we get trophies, certificates, plaques or not."
To make sure the right intention drives the pursuit of the award, you need to ask a few questions before you chase it, Smith says. For example: Is the award relevant to the core goals you are executing against? Moreover, "Is that core goal worth accomplishing? Is the pursuit of the award getting in the way of actually getting the results the award is intended to produce?
Smith also warns that if the intent behind pursuing the award is simply 'me-centered' and self-serving, then pursuing the award could be counterproductive. "Awards can be a superficial cover-up for lagging and lacking performance. Let the results speak for themselves."
The decision of whether to pursue a particular award must pass the "strategy" test: "The real question is this — how strategically relevant is chasing an award, compared to all the other pursuits in which the CEO could be involved?"
Whether these awards boost sales and revenue or have any effect on a company's bottom line is still up for debate. While plenty of subjective data suggests that such awards motivate employees and drive business and investment, there is little concrete data to prove it. Until we have such data, we will continue to see two distinct camps — the CEOs who unequivocally believe awards are valuable, and employees who generally think awards generate more busy work and hassles in order to further inflate the egos of those whose egos are already over-inflated.
Web Extras:
Tips for Winning Third-Party Awards
Any award worth winning has plenty of competition eager to fight for it, so before you start applying for the top awards, pick up a few tips and tricks from the masters themselves—CEOs and PR people who have their own well-stocked inventory of awards:
As a PR person, get to know your clients as business people and human beings, so you can tell the honest story of what makes them so outstanding. The trick is to  not trick—be honest when clients should not apply for certain awards and let them know when they need to hold back until you have a better story to tell. —Alison Bailin, account executive at HMA Public Relations in Phoenix
Choose your awards carefully. What is required to apply? What will you gain if you win? How can your organization use the award to generate sales, business awareness and credibility? After asking these questions, you will be able to choose the right awards and take full advantage of the awards you win. — Melanie Rembrandt, CEO, Rembrandt Communications
Use strong action verbs and energetic adjectives without resorting to hyperbole. For example, "With great skill and perseverance, our team attained 100 percent participation" reads better than "Everyone participated and put in their best effort."
— Carol Stevenson, Account Executive, Kevin/Ross Public Relations
Call the person in charge of running the awards program and ask what is required to win, then assign the project to your best people. If the award is worth applying for, it is worth winning. — Mike Nikolich, CEO, Tech Image
Pick the awards that promise the optimum return on your investment. Chasing awards that are irrelevant or unattainable is a waste of everyone's time and resources. — Sally Comollo, Executive Director of Communications, Digital Lifestyle Outfitters
It is not all about the numbers. Awards can be given for creative marketing, advertising, customer service, HR policies, green policies and other areas of operation. Keep your wording terse—avoid giving the judges too much to read. A dynamic CEO with an intriguing story to tell often claims the prize. — Bill Corbett, Jr., President, Corbett Public Relations
Believe you will win. There's no point going for an award to win if you have doubts. — Tania Hall, Senior PR Manager, Junktion
Give them what they want. Get in touch with a contact on the award committee and develop a clear understanding of the criteria and requirements before you start putting together your application. — Jim McKeown, Director of Communications, TopCoder, Inc.
If you're serious about winning the award, be thoughtful in filling out the paperwork. Take it as seriously as an interview for an attractive position or imagine your pitching a new business proposal. — Lenhoff Wise, President and CEO, Shazaaam! PR and Marketing
Work with a PR agency that has an intimate knowledge of which awards are available. This can be very valuable in helping you choose the right awards to pursue for your company. For us, a CEO award is really not beneficial, since it implies the success of the company was based heavily on just the strength of the CEO. — Cheryl Snapp Conner, Managing Partner, Snapp Connor PR
Apply only for awards that you can realistically win, and start the application process early to avoid any last-minute issues that could derail your attempts.  Awards can be the "icing on the cake," but cannot be a priority in our fast-paced, customer-oriented environment. — Elizabeth Driscoll, Vice President of Public Relations, The Go Daddy Group, Inc.