By Mikal E. Belicove|For Entrepreneur.com|April 5, 2011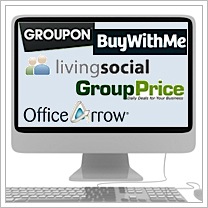 Ever since Groupon rejected a $6 billion buyout offer from Google in December, everyone it seems has been talking about daily deals, including merchants and enterprising business owners who wonder which daily deal website is best for helping their product or service reach new customers. Here, I'm going to help answer that question.
First up is Groupon, whose name is synonymous the daily deal delivered by email. In fact, discount tracker SocialShopping.com, says Groupon has 50-million-plus subscribers, with 70 percent of those being 18- to 34-year-old women earning at least $40,000 a year. Clearly, if it's mostly women you cater to, the smart money says you should contact Groupon about running a promotion nationally or in one of the 500 local markets in which it operates. However, before agreeing to one of their promotions, bear in mind that Groupon keeps about half the gross revenue derived from your offer. A steep price to pay, for sure, but for some it may be well worth the exposure.
Similarly, 60 percent of LivingSocial's 40 million subscribers are female, mostly aged 18 to 49. But the local experience, it turns out, rings in at less than one-third the size of Groupon's. Currently, LivingSocial operates in 121 local markets. That said, LivingSocial's cut of your offer is just 30 to 40 percent of the gross revenue — leaving more dollars for you.
The demographics for BuyWithMe show its subscriber base is 75 percent female — most of who are between 18 and 44 years of age — earning a salary of at least $50,000 on average. BuyWithMe, which targets 13 leading metropolitan areas in the U.S., keeps between…
Continue reading Which Daily Deal Site is Right for You?