By Mikal E. Belicove|For Entrepreneur.com|August 16, 2011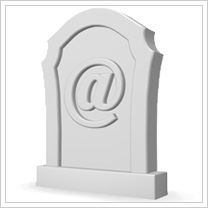 Some social media consultants have begun eulogizing email. They suggest employers cast out what they see as a dying communications tool, and, instead, encourage employees to use whatever social media channel they feel most comfortable with for a given communication.
This assessment is premature. As an advocate of using social-media utilities and platforms for business-related purposes, I'm certainly not afraid of new communication platforms or devices. But endorsing tweets for example over email messages for group or one-to-one business correspondence is shortsighted. And if email is dead or dying, that certainly comes as news to me. Especially since I received word about this blog post through — you guessed it — email.
First, spouting absolutes like "email is dying" can be dangerous because it assumes that what's good for one demographic must be good for all. Second, email — which can be used to recruit followers and fans and accomplish much more — isn't anywhere near being broken or dead. In a recent piece, Jacob Kramer-Duffield, a social-media consultant in Brooklyn, N.Y., recalls a November 2010 Pew Internet & American Life Project commentary by Amanda Lenhart that cites a previous Pew study showing that only 11 percent of teens in 2009 relied on email to communicate with their friends, thus labeling email as a "dying medium" among the young.
The latest Pew data on email usage suggests…
Continue reading Is Business Email Dead?