By Mikal E. Belicove|For Entrepreneur.com|October 6, 2011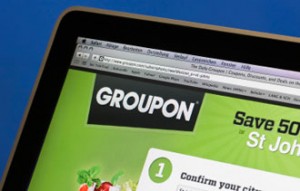 On the surface, it would appear that the daily deals phenomenon is beginning to lose its luster. Not only have the visits to Groupon slowed this summer, Facebook dumped its deals program and Yelp cut its Deals sales staff by half.
But none of these developments mean the daily deals business model has stopped evolving or that group buying sites aren't coming up with innovative ideas. Among other things, the most prominent daily-deal sites including Groupon, BuyWithMe and LivingSocial have been offering new products such as instant coupons and shopper incentives. In addition, companies that offer white-label daily deal technologies are also making great strides in improving these social group buying sites.
Here is a brief rundown of the latest changes to hit the biggest daily deal sites:
Groupon recently introduced a trio of new developments. For starters, it launched Groupon Now, a real-time coupon that allows merchants to schedule deals that will run when you need the customers. You choose what you want to offer, what discount you have in mind and how long you want the deal to last. For instance, a café owner can schedule deals during the slow periods of the day, such as after lunch and before dinner.
With Groupon Rewards, you can offer incentives to your customers, depending on how much they spend. Just set the spending level customers must meet to unlock rewards, and Groupon does the rest. Then, the company's Groupon Goods program moves away from the service industry, offering discounts on consumer electronics and hard goods.
LivingSocial seems hell bent on catching up with Groupon, publishing frequent announcements about new markets that it is opening throughout the U.S. and Canada. The most recent news:…
Continue reading New Ways to Tap into Daily Deals Sites